In San Francisco, home of the finest, most exclusive hotels in the world, and the west coast birthplace of the bed and breakfast phenomena, lies Edward II Inn & Suites, a three-story European-style inn, situated only blocks from San Francisco's yacht harbor.
With 25 rooms and 5 suites, the inn has accommodations to suit every need or desire. The suites, most with Jacuzzi tub and some with kitchens or refrigerators, offer a wonderful experience for vacationer or corporate traveler alike. Each room has telephone and color cable TV with remote, blending beautifully with the traditional English decor. A complimentary continental breakfast is provided to all guests consisting of pastries, cereal, fresh squeezed orange juice, and gourmet coffee with an aroma you can taste.
~~ Closed* ~~
1914 - 2010

Best wishes to all,
The Holland Family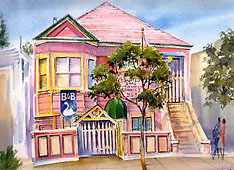 *The Carriage House Apartments remain open through Spring 2011.*
For monthly bookings, visit our Web site, www.SpaSuitesSf.com.
Or email us at . Please include your phone number.